Bloco Vomit in Recife - Part 4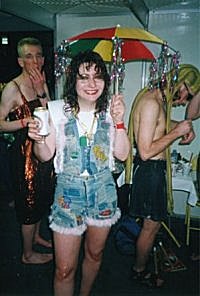 It took a while before he found out who we were, but once it was clear that BV was drinking in his pub we had a great encounter. He came up with a painted clay figure and gave it us as a present. On the Sunday, when we played, a guy dressed up like that was dancing around, with bells hanging and banging from his bum. A guy who had visited the Netherlands (jawel in Lochem) some years ago and wanted to practice his dutch on me, told me that it depicts the maracatu-virado noise-maker from the traditional maracatu´s in the interior of Pernambuco. (So we handed it over to Mike to take care of). Luckily we had some BV-cd´s on us for his juke-box. In contrast to all the meetings, the reports in the local news-paper gave an impression that either the journalist had not been at our set (citing almost literally the kind of previously press-released interviews or web-sites) or was from the economics-section unwillingly replacing his `music´-colleague (wasted by the Saturday grunge, but, after a hangover-day, writing very enthusiastly about Ze´s Supersoniques)....Apparaently, In Rio there were big write-ups of our act, which fit better our gig-experience. The whole event took place in the big concrete bunker (accurately described by Jasper and Ken), where our sound-check luckily began with more than an hour delay, as we had left the surdo´s in Pinho (towards Boa Viagem after the Saturday´s practice) and also had to pick up another surdo that we borrowed from a friend of Ze. We would be the second band of the night. There were two-stages; and as the night began with an act on the main stage, we were the first one on the smaller, second stage. Only an hour to rush to get some food in the nearby shopping mall and beers as well, to weaken up the tension.... It started later, fine, time for some caipirinha´s and quietly dressing-up. Ze´s wearing Esther´s Irn-Bru dress; others were normal BV-you know, you´ve seen us... A hug-group photo before going up onto the stage... The first impression we were on was of a large group of people laughing and watching with astonished faces when we started with Not Fade Away. The ice was broken completely with Gambinda Nova (a maracatu tune they recognized) and people started to dance. It was hard to hear each other because of all reflections in the hard wall, so some breaks didn´t go too smooth, but overall it was so much fun playing in front of this large audience. The whole hall was empty but from the people watching us and those manning the stalls (the guy who was serving us caipirhinha´s all the time, recognized us and was waving his mixing-shaker!). Flashes of photographers, Aileen with her camera running around, the band is going full-on.... The set went on in a trance and we left it dead. Worn out by all the fast batucada´s in the end. We were not allowed to leave without doing two encores: Love lies Limp and Bondage up Yours. Then, once in the dressing-room press-camera´s. Interviews: Gary and Esther for MTV, and other stations talking to Ian, Steve, or Jasper.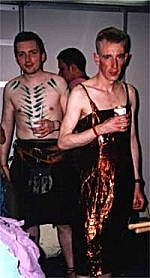 I had to say something too, as usual ending up talking a lot of sense - about mixing Guinness with banana´s when asked about whát we mean with ´samba-punk´. It was amazing that we did it (which I was saying all night long afterwards). It was a night with other great acts, but I was too tired to take them all in.. we left- I think before the end, but I am not sure. I ended the night making pictures of my last caipirinha of the night - according to Aileen- my photo´s have to prove this to myself as my recollection of this is a bit absent. For more info, check the ABR-website and Gary has written about this. Sorry for the repeats. Now we are going to eat our fare-well-lunch at Ze's. All a big hug from them, Ze, Jorge (Jr and Sr), Malu and Patricia... And, Mat, that family marmalade is great!
PS we are soon off to Sao Paulo for the next set of events:
A Agenda deles até o momento é a seguinte:

Friday 14th - newspapers interviews at 11;00 am
photos at 3 pm
chat with universo on line at folha de Sao Paulo at 9pm

Monday 17th
11;00 MTV recording alive interview and live set for Lado B
4pm soundchek at Woodstock Bar
10pm showtime

Tuesday 18th
4pm soundchek at Radio Brasil 2000
8pm live set at Brasil 2000 FM

Thursday 19th
4pm soundchek at Sesc Pompéia for Musikaos program of TV Cultura
8pm live recording for Musikaos
---