Bloco Vomit in Sao Paulo - Part 2
Date: Wed, 19 Apr 2000 11:15:03
Hi everyone,
Just a quick message to update the situation. We're at the MTV studios now without our drums as we were told that there was no PA and that it was just an interview. Then of course, the producer has just told us that he has managed to track one down. So thereīs a huge faff with some people heading back to the hotel to get the gear and the rest of us getting ready to go live to air. Nerve wracking....I think so.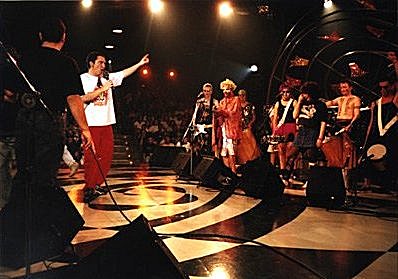 Apart from that, weīre having a great time. TV yesterday as well and more on Friday. It seems to consist of a heap of waiting around to play 3 songs. Oh well, the price of fame.
Heading across to Rio tomorrow. More news from there.
Cheers
Here we are in the offices at MTV Brazil waiting to be interviewed.
Donīt mention the weather. Or our stomachs. Some casualties to report by now...but we keep the privacy... not everyone likes to peeped upon in the bog on their racing can.
We were told that we were on a 3:30 and it is now 3:35 and we have no instruments and they want us to play. We hope to do Teenage Kicks, Should I Stay and California.
The brazilians faff even more than us, but without getting really upset. They are pretty good last minute organizers. I could have read five books by now, but itīs too interesting, after this tour, we will be able to describe at least 113 and half ways of how to faff. We take notes all the time. Yesterday it took five hours to get us sorted for a 10 minute live-performance for shrieking kids...especially California went down a storm.. (after Have Love and Love lies Limp) it was a pity we had to leave before the clowns came on. They were already pretty funny in the dressing room. We have to watch the show...it will be on nationally, maybe on the last weekend of our stay.