Bloco Vomit in Rio - Part 2

The TV was bizarre (you may see the footage one day) with the audience of teenagers looking on us with blank bemusement while the director and presenter seemed to get right into it. There was an interview that seemed to draw to a premature halt when, after being asked why we played Brazilian music, Rob, who had his face wrapped in bandages so he looked like a Egyptian mummy in drag and had misheard the question, started talking about Recife bus drivers driving like Grand Prix drivers (or was it Guinness and Bananas). Either way it seemed to throw the presenters a little.
The gig at night started with a band called "Sheik Tousado" who had played on the main stage at the Abril Pro Rock festival and they were excellent (I'm looking forward to hearing their CD that someone has). They were followed by an extremely loud but forgettable band that I have forgotten the name of, and lastly us.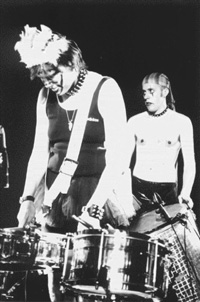 We finally went on at 3:30 in the morning and played a slightly bumpy set that had it's moments but I must admit suffered from our collectively burnt out state and the late hour. Still Pedro and Wagner (the co promotor) thought it was an excellent gig. Perhaps we were starting to expect a higher standard from ourselves than those who were putting us on and saw us. Anyway at the end of the gig Esther decided she was leaving the band yet again (for those that don't know this is a bit of a habit of Esther's).
The next day we all felt much better, Esther forgave us, and we were all set for making up for the previous night with our last gig but unfortunately it was rained out. The gig was open air and the field was underwater apparently.
We moved to a rented appartment, to be our base for the remainder of the trip, in the heart of Copacabana two blocks away from the beach.
The cancelled gig meant we had to find an alternative plan for the evening and a brief scan of the Rio equivalent of 'The List' revealed that we had a rare opportunity to see the Velha Guarda da Mangueira or Old School of Mangueira that Pedro described as the Mangueira equivalent of the "Buena Vista Social Club". This proved to be an excellent choice even if a few of the voices cracked with age. Lots of soul and spirit that was infectious and uplifting. Before long the Carioca cool started to crack and by the end half the room was up dancing.
---