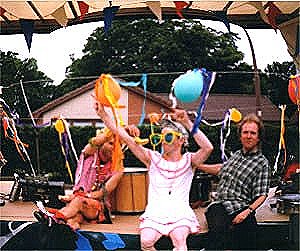 Festival Cavalcade, Edinburgh 1998
Samba - is half of Bloco Vomit. BV have played around the UK within the large and expanding samba community. Ranging from the Drogheda Samba festival in Ireland; Brighton with the Carnival Collective; Glasgow with Samba Ya Bamba; Cardiff, performing with Samba Gales; and of course Edinburgh, with its own samba school.
In December 1998, the band went on a sponsored cycle from Edinburgh to Oban on a tandem. They played in Paisley on the way. They covered some over 100 miles. In Oban they still had the strength to perform at a samba party, hosted by the Argyle Samba Project. In the process, they raised some £250 for the Big Issue.