Playing on the same bill as Lou Reed, Oasis and The Cure, Roskilde is one of Europe's largest festivals. We performed at the Ballroom Tent in front of an audience of up to 5,000 for almost 2 hours.
Most of the band were through on the Friday night, when the crush occured at the Pearl Jam performance. There was a lot of grief and a sadness in the cold, wet air of Saturday. We hope we cheered people up. We received a glorious welcoming chant of BLOCO VOMIT! BLOCO VOMIT! STAMP STAMP etc, had a member of the audience streak on stage, we went down well.
Alongside April Pro Rock this was to become our most memorable gig to late.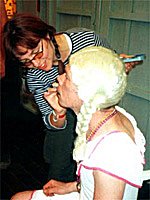 Ian getting ready for the show